Flight Experiences
Introductory Flights and Trial Lessons
An Introductory Flight enables you to get airborne to see if flying is for you. These flights are not usually instructional, you get to sit back and enjoy the view!
For the more adventurous flyer, we offer Trial Lessons allowing you to handle the controls under the supervision of a qualified flying instructor. It's not unusual for the student to take full control for the majority of the flight, for a fantastic flying experience.
Trial Lessons and Introductory Flights are available with no membership or further costs involved. Should you subsequently train for your Pilot's Licence, the Trial Lesson can count towards your total flying hours.
Both the Introductory Flight and Trial Lesson are priced the same – if you would like a Trial Lesson, your pilot briefing will be included – please let us know at the time of booking. You are welcome to bring up to 2 friends or family to share your experience; please see prices below.
If you are unsure which package is best for you, please feel free to ring to discuss your requirements. Upgrade options for flight duration, aircraft and passengers can always be available at the time of booking the flight.
Flight in a 2-seat Aircraft 1 person (80kg/180cm maximum)

30 minute flight £120 
45 minute flight £180 
60 minute flight £230 
Flight in a 4-seat Aircraft 1 person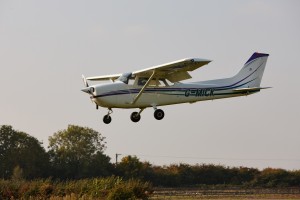 30 minute flight £140
45 minute flight £210
60 minute flight £270
Flight in a 4-seat Aircraft 2 people
30 minute flight £160
45 minute flight £240
60 minute flight £310
Flight in a 4-seat Aircraft 3 people
30 minute flight £180
45 minute flight £270
60 minute flight £350
Gift Vouchers
Vouchers are available for the above Flight Experiences, making excellent gifts for friends and family. These can either be purchased online, or by phoning the School on 01406 540461.
A Trial Lesson Guide Book is the perfect complement to your Trial Lesson Voucher, enabling you to swot up on the basics before your lesson. It's just £4.95 if purchased with the 30-min flight, but included when ordering the 45-min or 60-min Flying Lessons. These can be purchased over the phone and posted out the same day. Please don't hesitate to phone the school on 01406 540461.
Anyone wishing to buy a voucher for any value to put towards a flight, we can accommodate this, please contact us.
Frequently asked Questions
Q : What about the weather on the day?
A : We will let you know on the day if the weather is going to be suitable, if it is not, the slot will be cancelled. We will then re-book you for another day of your choice.
Q : Will I be able to control the aircraft?
A : You will be able to do as much or as little as you wish! The Instructor will always take off and land the plane, but the rest of the time you can control the plane, learning to gently turn the aircraft, climb and descend.
Q : Do I need special clothes?
A: We recommend sunglasses as it is often bright when airborne, otherwise just a light jacket if it is cold; although the aircraft are heated it may take a few minutes to warm up in really cold weather.
Q : Can I fly over my house?
A : Yes if close by, and don't forget your camera!