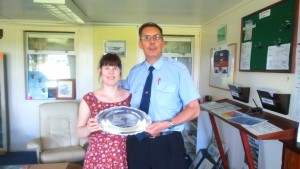 We have a trophy!! Joint winner of the famous Guernsey NavEx, flying a timed route over Northern France and picking out landmarks from photos. Congratulations to our CFI Steve (with a teeny bit of help from Lisa!). And for the 3rd year running, winner of the Aviation Quiz (have already drunk the prize!).
We really enjoyed our weekend; the AeroClub always put on a fabulous show, full of aviation activities to indulge in, a spectacular hangar dance, great food and always a warm welcome.
Guernsey is a beautiful island, well worth a visit, so save a space in your diaries for the middle of June next year! We'll definitely be going back!