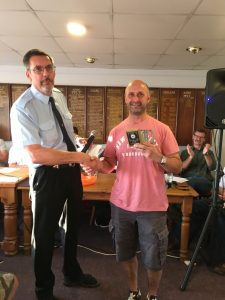 The CFI's Cup is awarded to the student, who, in the opinion of the CFI, is the overall best student!
This year it has been a particularly difficult task as all 11 new licence holders could have been a worthy winner as they have each impressed us in their own special way. The nominations this year are:
Aaron for the best comeback after a set back
Max for being the most technically competent
Braden for his versatility and diligence
Daniel for completing in the shortest period
Thomas for having the highest standard of airmanship
Steve for being the most pragmatic and forensic
Carl for his overall aviation and engineering knowledge
John for being the most persistent in the face of medical issues
Robin for his entertaining RT and his uncannily accurate altitude reporting
Tim for being such a great role model for the older gentleman
Linda for her enthusiasm and newfound self-belief
So……. the award this year goes to the student who has most impressed us with their meteoric level of improvement. They came in to the aviation world with no previous flying experience or knowledge, and have diligently and methodically applied themselves in a dogged and determined manner. In the face of adversity, they have always remained cheerful and optimistic which makes their achievement all the more impressive and rewarding. Congratulations and well done to … Robin!